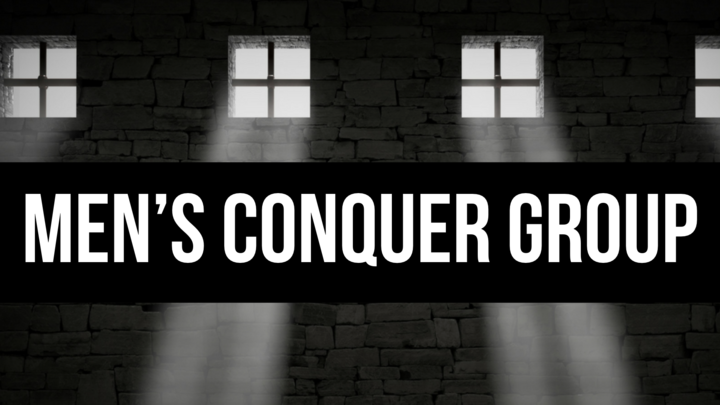 Men's Conquer Group
12 September - 14 November 2019
$30
Dates & Times
12 Sep 2019

7:00pm - 8:30pm

19 Sep 2019

7:00pm - 8:30pm

26 Sep 2019

7:00pm - 8:30pm

3 Oct 2019

7:00pm - 8:30pm

10 Oct 2019

7:00pm - 8:30pm

17 Oct 2019

7:00pm - 8:30pm

24 Oct 2019

6:00pm - 7:30pm

31 Oct 2019

6:00pm - 7:30pm

7 Nov 2019

6:00pm - 7:30pm

14 Nov 2019

6:00pm - 7:30pm

Show

all

less
About Men's Conquer Group
Porn stinks! It really does.
All the guilt and shame - the hiding and games - the waste of time. Not to mention, the industry that produces porn is so full of abuse and injustice. We just can't support it. And we want to break free of it!
The good news is ... we can! With help from others and help from above, we can break free of porn.
WHO?
We're a group of guys who are winning the battle against porn in a new way. We meet weekly to help each other through relevant teaching, honest sharing, encouraging accountability and practical faith.
WHAT?
We'll be watching the Conquer Series. Conquer is a 10-week cinematic teaching series on sexual purity that helps men get to the root of bondage, while offering proven principles and practical tools to conquer pornography and find freedom.
A few of the highlights:
Explore strongholds that keep men in bondage
Examine the neurochemistry of addiction
Discover the weapons and strategies of God
Investigate proven strategies to prevent relapse
Study practical daily techniques to remain free
Watch the movie trailer to get a feel for how great the Conquer Series is. WATCH HERE.
WHERE?
We'll be meeting at 321 E Robertson St, Brandon FL 33511
COST?
We charge $30 to cover the cost of the workbook. If you can't swing that financially, sign up anyway. We don't want the cost to stop someone from getting free!
CONTACT?
Ryan Irving at ‭‭(813) 601-2857‬.
Ward Gannon at ‭‭‭(813) 997-1070‬‬.